When playing Eternal Return: Black Survival, you might notice the little locks to the left of some of the options under Normal Match. You can't queue for these game modes – trying to do so will hit you with the 'Check which game modes you can play today' pop up. Why can you not play ER:BS, and how do you solve it?
Why are game modes locked?
Because Eternal Return: Black Survival is still in Early Access, finding enough players to participate in a game might be challenging. To avoid long queue times, Nimble Neuron has put restrictions on the availability of some game modes during certain times of the day.
This means that sometimes you won't be able to play in Duo's or in Squads – or not at all… on your server, at least! Do not despair, because there is still a way to enter Lumia Island and kill some noobs 😉
Note: if you have trouble queueing AI games with friends, learn how to create a custom game here.
How do you play games when the server is unavailable?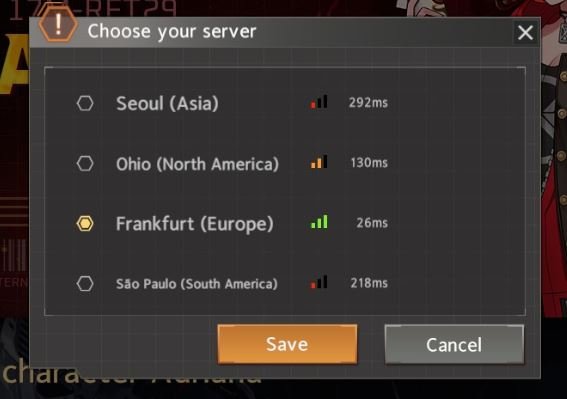 To play a normal game when all game modes are locked (or to play in a Squad and not have to kick one friend when only Duo Mode is available), simply switch to another server that is opened.
Click your server on the top right of your screen to see a list of available servers.
Pick another server, preferably the one with the lowest ping (ms). Personally I find I can still perform okay in Eternal Return at 100-150ms. Around 200 I start to see some skips and spikes; anything higher makes it hard for me to play my best.
The opening times for servers, as well as the availability of Duo or Squad mode, can be found below.
When are normal games open?
Below you will find the opening times of the different servers of Eternal Return: Black Survival, as well as the game modes (Solo, Duo or Squad) that are available each day. The schedule may change in the future; check this site for the most current opening times.
European Server Schedule (Frankfurt)
Opening times: Servers open daily between 17:00 (5pm) and 0:00 (12am) European/Amsterdam time (8:00 – 13:00 PST/ 11:00 – 16:00 EST)
Game modes:
Solo: Every day
Duo: Tuesday, Thursday, Sunday
Squad: Monday, Wednesday, Friday, Saturday
Korean Server Schedule (Seoul)
Opening times: Always open
Game modes: All game modes always available
North American Server Schedule (Ohio)
Opening times: Always open
Game modes:
Solo: Always open
Duo: Always open
Squad: Always open
South American Server Schedule (São Paulo)
Opening times: Servers open daily between 22:00 (10pm) and 04:00 (4am) European/Amsterdam time (13:00 – 19:00 PST/ 16:00 – 22:00 EST)
Game modes:
Solo: Every day
Duo: Tuesday, Thursday, Sunday
Squad: Monday, Wednesday, Friday, Saturday